We're back for Part 2 of our Access All Areas feature which introduces all 7 Poker Club locations, from our up-market New York penthouse to the rough and ready pizzeria basement that's perfect for a quick cash game amongst friends. Join us as we take you behind the scenes for an exclusive preview of each of the locations, including insights from our Designers and Artists.
Today we're taking an in-depth look at Gunung Casino, with insights from Poker Club Artist, Matt Beech. And if you missed Part 1, make sure to head over to our exclusive look at Number One, Park Hill.
Tell us about Gunung Casino. Where did the idea come from and what does this bring to the world of Poker Club?
Creating a modern casino environment was always high on our priority list when we set out to develop Poker Club. We decided early on that we wanted to include a range of different atmospheres and settings, but getting our casino environments right was of incredibly high importance to us. The Gunung Casino really showcases the luxury and exclusivity of high stakes poker and creates an aspirational locale where we think players would very much like to visit if they had the chance.
We wanted the casino to feel modern and far from the sometimes dated interiors of traditional Las Vegas Hotels and Casinos. This contemporary style is reflected in the architecture and materials used throughout the environment.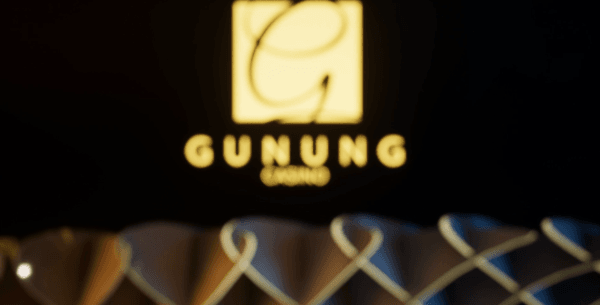 What's the story behind the name?
This is always an interesting question as the reasoning behind the name of every environment is so different! For Gunung, we were inspired by Eastern Asian culture and the name comes from the Malay and Indonesian word for mountain; Gunung.
What references and inspiration did you draw from whilst creating Gunung?
The interesting thing about Gunung is that we took inspiration from multiple regions across Asia and chose to create a tribute to Eastern culture in a modern and collaborative way. One of the standout reference points for me was the famous Supertree Grove in Singapore. The vertical gardens have a strong sense of nature in their design and lighting which inspired many elements of Gunung, including the structures we created as part of the casino's lighting installation.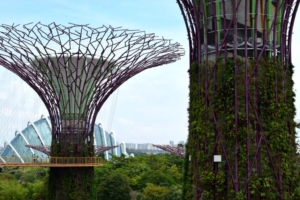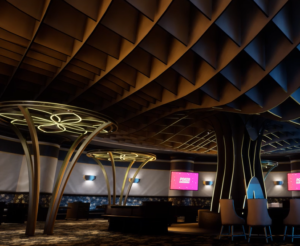 What are the key features of this environment and how did you bring them to life?
The floral and organic design of the ceiling and the lighting installations are central to the theme of the casino as well as the decorations which have been placed throughout the environment.
Any interesting stories from the development process?
This location went through several revisions before we decided on the final theme, design and layout, so ended up with the longest development time. Once we settled on a fusion of culture and modern design it was all systems go.
Last question, what's your favourite thing about this environment?
I'm a big fan of the cool, modern atmosphere we've been able to create, which is reflected in everything from the architecture to the materials we used. I also like the Asian inspired decor including the wood carvings and reliefs which hang on the walls. These assets were created using photogrammetry, meaning they are real-world items that have been photographed extensively and accurately recreated in 3D directly from source photos. This method afforded us incredibly detailed and accurate results whilst working to design Gunung and was one of my favourite parts of the process.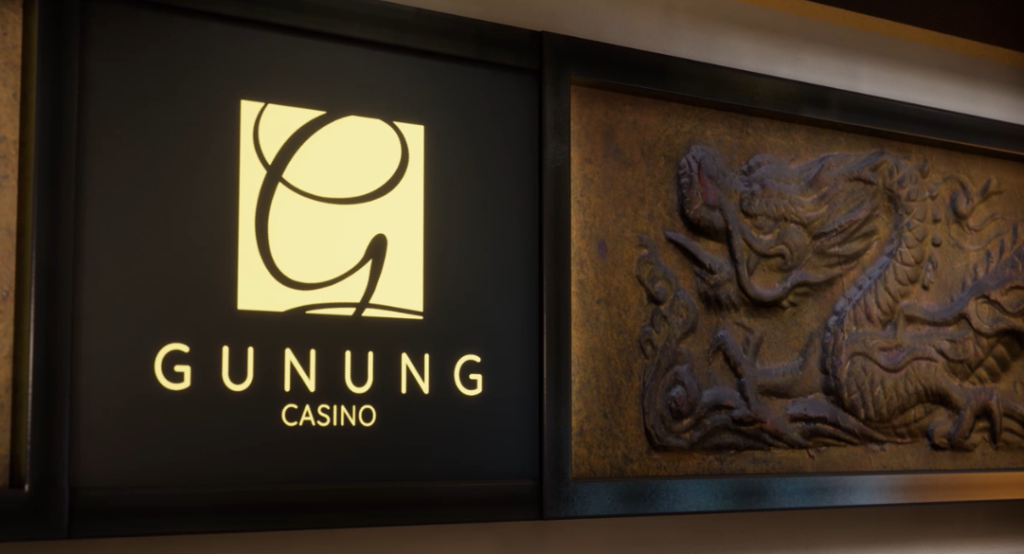 ---
We've got 5 more locations to introduce you to and lots more Poker Club details to share. If you have any questions about Gunung or want to know more about Poker Club, join us over on Discord.
Poker Club launches November 19th on PC, PS5, Xbox Series X and current-gen platforms and you can add the game to your Steam Wishlist by visiting the store page now.