Poker Club launches on November 19th for PC, PlayStation 5 and Xbox Series X/S
It's official; Poker Club is launching on November 19th on current and next-gen platforms!
That means less than 1 month to wait before getting hands-on with the game on PC, PS5, PS4,  Xbox Series S/X and Xbox One. We are incredibly proud to be releasing Day 1 on PlayStation 5 in Europe and we can't wait for you to join us at the table on all platforms!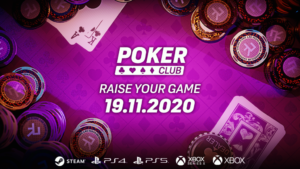 Next-Gen Support
Leveraging the power of Unreal Engine 4 and next-generation visual features, Poker Club will offer players the most immersive poker simulation ever seen on next-generation and current platforms. The game boasts 4K visuals at 60fps, with advanced rendering techniques including hardware-accelerated ray tracing across PC, PlayStation 5 and Xbox Series X.
On PlayStation 5, Poker Club will utilise the advanced haptics in the DualSense controller to immerse players on the poker table like never before. The game supports free cross-gen purchasing across PlayStation 4 and PlayStation 5, while on Xbox One and Xbox Series X makes use of Smart Delivery, so players only have to buy Poker Club once to get the game on both generations of consoles.
"We've been working really hard to ensure that Poker Club is available for next-generation consoles at launch," said Phil Gaskell of Ripstone Games.
"It's not been easy, but we are very proud to finally announce that we will achieve our goal, with Poker Club launching on November 19th for PC, PlayStation 5, Xbox Series X, PlayStation 4 and Xbox One. This is the poker game we've always dreamed of and offers more modes and ways to play than anything else out there. We can't wait for players to join us at the poker table this holiday season!"
Stay Connected
Poker Club is designed as a social experience. In line with the increasing online community-led nature of the gaming landscape; Poker Club will connect players with friends and poker fans around the world, featuring tournaments for over 200 participants. Players can create or join a club complete with leaderboards, bespoke tournaments and daily chip bonuses, whilst working towards shared goals that unlock exclusive rewards. Some customisable gear and events are club-specific, meaning the best way to play is as part of a collective with others from around the world. Poker Club will also offer cross-platform and cross-generation play, meaning users will be able to play together on PC, Xbox and Nintendo Switch platforms. PlayStation users experience cross-generation play between PlayStation 4 and PlayStation 5 platforms.
Join the community over on the official Poker Club Discord and find us on Twitter, Facebook and Instagram. You can also join our mailing list to be one of the first to receive the latest Poker Club news.
---
Poker Club will launch on PC, PlayStation 5, Xbox Series X/S, PlayStation 4 and Xbox One on November 19th. The Nintendo Switch version will follow in 2021.
If you would like to register your interest for a review code please contact [email protected] (EU) or [email protected] (NA).