This week's round-up includes
– Poker Club exclusive gameplay preview
– Developer commentary video with Game Director Phil Gaskell
– Access All Areas at Number One, Park Hill – location showcase
Keep reading to stay up to date with the latest Poker Club news ahead of launch on November 19th…
---
Welcome To Poker Club Gameplay Preview
This week we shared an exclusive Poker Club gameplay preview, featuring commentary from our Game Director Phil Gaskell. Join Phil for an introduction to the game, from the PCC Tour through to Tournaments and experience a few hands of poker in our stunning penthouse; Number One, Park Hill. Check out the video below!
Access All Areas  at Number One, Park Hill
Yesterday we shared an exclusive behind the scenes look at Number One, Park Hill, our New York City penthouse that hosts mid-high stakes invitationals. Poker Club Artist Jake Parrott shared an insight into the design and development of the location in an in-depth feature, covering everything from the inspiration behind the name to the curation of the artwork on the walls. Make sure to head over to our Developer Diary section on the blog to check it out.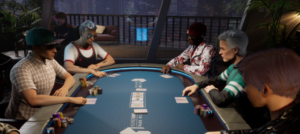 Sharing the Immersion on Social Media
We've been sharing Poker Club gameplay snippets over on our social media channels for the past few weeks, so make sure you're following us over on Twitter, Facebook and Instagram to catch the latest updates.
No one can compete with the return of Woolworths but we CAN share another exclusive look at Poker Club gameplay ?

Launching 19th November on PC, PS5 and Xbox Series X!

♣♦ Join us on Discord ♥♠https://t.co/eUxkzB66Ae #PokerClub #Poker #XboxSeriesX #PS5 pic.twitter.com/rWyxeD1rIn

— Poker Club (@PokerClubGame) October 27, 2020
Next-Gen Giveaway
You've still got the chance to win multiple copies of Poker Club to share with your friends AND the choice of a PlayStation 5 or Xbox Series X console. The full details are available in our announcement post and entries close 18th November at 23.59 GMT.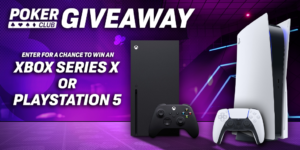 We've got even more news and exclusive insights to share next week, but for now, you can stay in touch with us over on Twitter, Facebook or Instagram, and in our official Discord server. Thank you to everyone for the support so far, we can't wait to share Poker Club with you. Please consider adding us to your Steam Wishlist as it really helps and keeps you in the loop for future updates and announcements.