Friends list invites for Steam

We aim to make creating your poker nights as smooth and simple a process as possible. We've had a lot of positive feedback on this from our trial of friends list invites on Xbox platforms, so as part of this update we're also adding them in for Steam. This will allow you to easily fill up your table and make your dream poker night a reality. We'll also be looking to bring the same feature to PlayStation platforms in the future.
Host Controls For Private Games
Having full control over your private games is key to hosting any good poker night. We're making the process even smoother with the addition of brand new host controls for private games. With these you'll be able to:
Choose to spectate or join the table yourself.
Access spectator options, including the ability to see all hole cards at any time, perfect for streaming, or if you prefer to just follow the action as an all-seeing observer.
Choose when the tournament will start. Keep your table open until the whole crew is seated and launch when you're ready.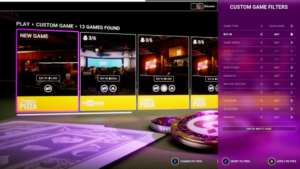 Community Prizes
Are you a big community leader? Are you keen to host larger events? We're here to support you!

With the River update, we've got some special community rewards that you can't get anywhere else!  This means that if you are running tournaments and events, we'll have unique prizes for your winners, as well as special rewards for those of you that turn the cogs to make these kinds of events happen.

We'll be opening up a way to apply for these prizes and further event support soon, so watch this space. In the meantime, here's a teaser of the kind of prizes you can expect!