We're back with Part 3 of our Access All Areas feature! Join us as we take you behind the scenes for an exclusive preview of each Poker Club location, including insights from our Designers and Artists.
This week we asked you to vote for which location you'd like to see us showcase and you voted for the bright lights of the Intensity Arena! We're back with more insights from Poker Club Artist, Matt Beech and if you missed Part 1 and Part 2, make sure to head over to our Developer Diary to stay up to date with the latest reveals.
Welcome to Intensity Arena

Tell us about Intensity Arena. Where did the idea come from and what does this bring to the world of Poker Club?
With the breadth of the PCC Poker Tour, it was clear that we required a location that would host the highest tier of competitive and professional matches in Poker Club. We started pulling together our ideas for how we'd like this location to look and feel pretty early on, and knew that it needed to feel prestigious, as the location for the highest-stake events.
We went on to be inspired by the biggest and best poker and eSports arenas that you often see in real-life poker tournaments. This led to the creation of what we have today; Poker Club's Intensity Arena. Our aim was to create a strong sense of occasion and realism, so the TV and broadcasting equipment that you can see whilst playing were added to remind participants of the stakes at play. 
What's the story behind the name?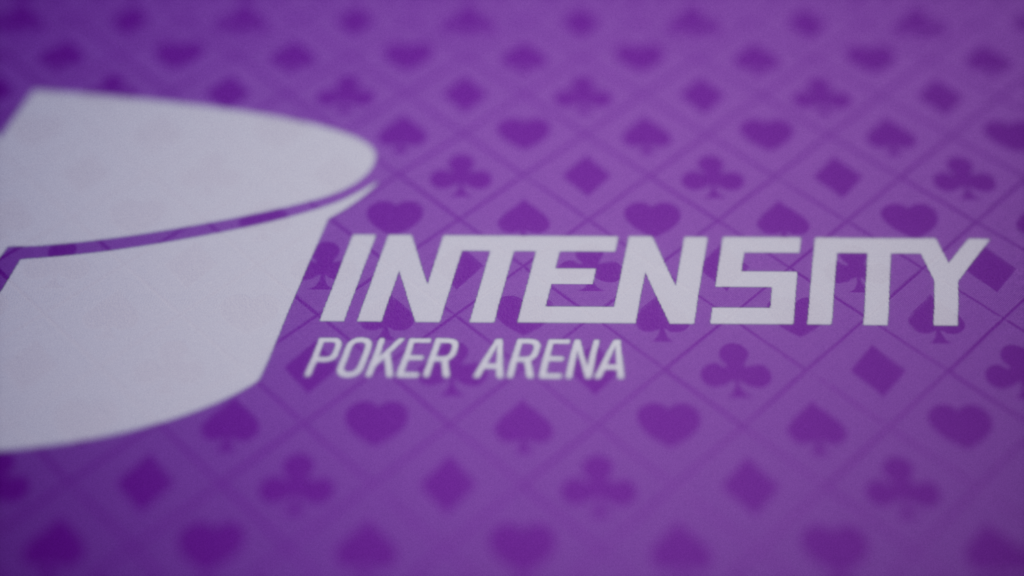 This one is easy and (hopefully) speaks for itself! With such huge stakes on the table, we chose the name 'Intensity' to reflect the enormous losses and gains that can be experienced within this location. The arena itself is small and enclosed with the crowd packed in tight and close up to the table, which really adds to the pressure of playing here. Only the best of the best will find themselves playing to win at Intensity and we wanted them to feel a sense of achievement for making it all the way.
What was the design process for creating Intensity Arena?
We decided to create a small enclosed space to maximise the playing area and really focus all attention on the table. This is often the approach in real-world tournaments and this was the feeling we wanted to replicate in Poker Club.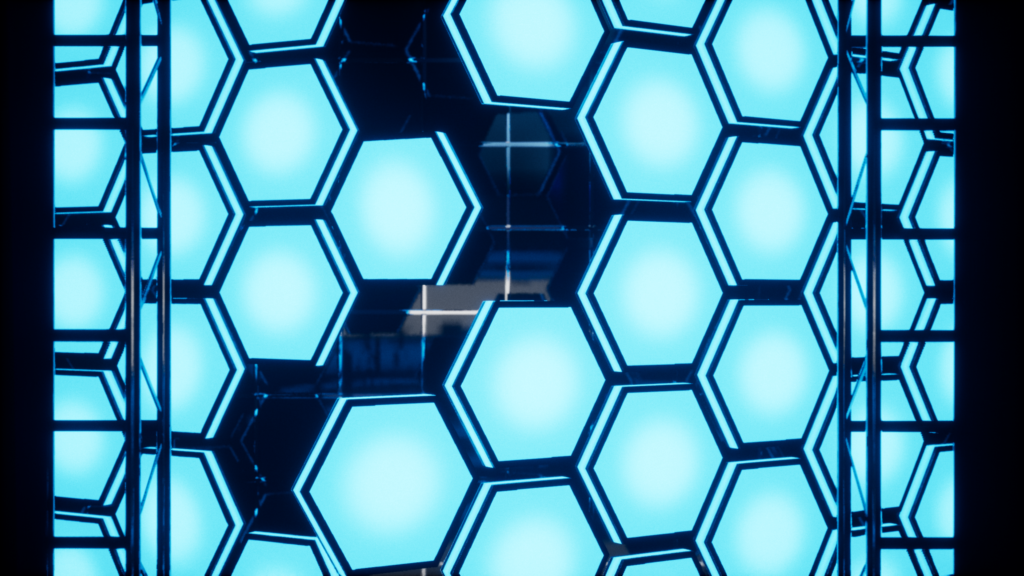 The final design features a very modern style and we utilized neon lighting and reflective materials to keep things contemporary, whilst ensuring the overall look stayed minimalistic and not overly distracting.
To talk a little more generally about the creation of all Poker Club locations, we always start out with an environment blockout. Creating this quick 'shell' of the location allows us to see very quickly if the design 'works' or not, so we don't waste too much time on a bad idea… It also means that we can make any adaptations early on without having to make big changes later during development. Blockouts are also important as they help to quickly get the idea that's inside your head out into a 3D space to share with the rest of the team.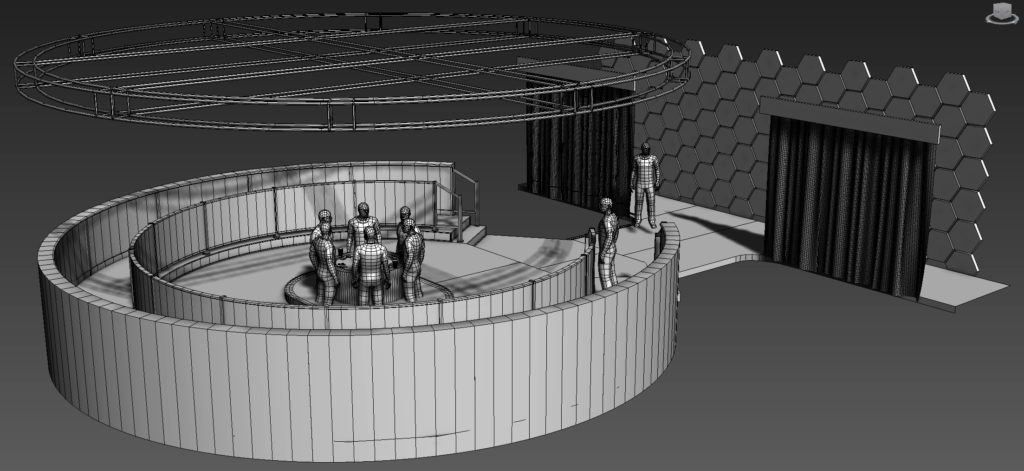 You can see in this Intensity Arena blockout that we were set on the main location features early on; the arena walkway, enclosed playing space and our take on a modern LED wall. The finer details came later on with the addition of branded curtains, TV cameras, custom chairs and the introduction of the arena crowd.
What are the key features of this environment?
The overhead lighting rig and the wraparound TV screens that surround the table really bring Intensity to life. They add to the atmosphere and are a constant reminder of the amount of chips on the table. 
Did you add any of your own personal design choices into the environment?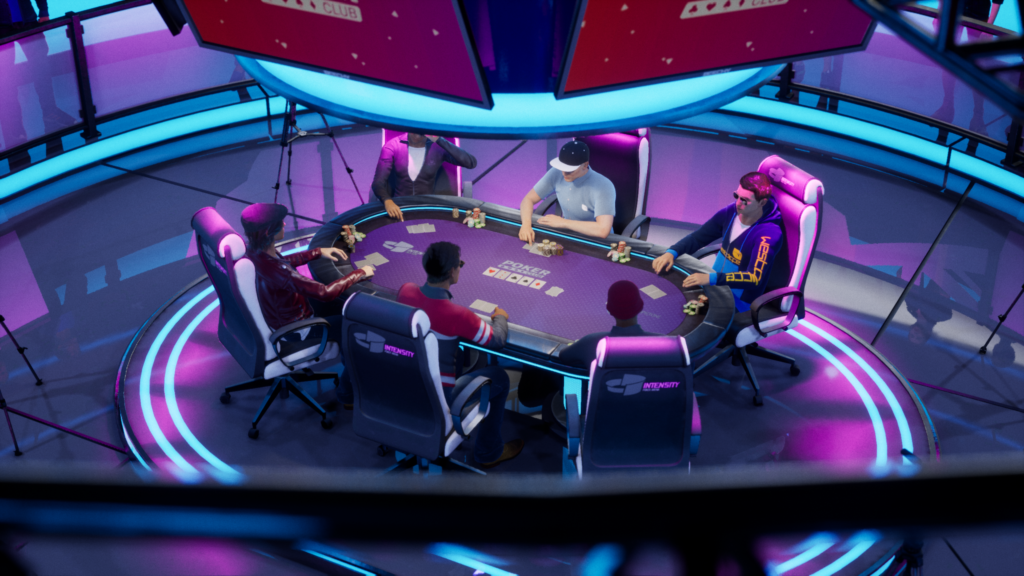 I wanted it to feel almost like a 'stage set' and to have a sense of realism in the way that it would be a temporary construction and not a permanent fixture. Whilst creating Intensity I envisioned that the arena frame would be shipped in pieces to a large events room and then pieced together by the crew. After the competition it would then be disassembled and carried out.
Last question, what's your favourite thing about Intensity Arena?
Big, strong lighting within such a small space. The minimal and modern design gives a strong sense of occasion, with the entrance ramp and neon-lit walkways really making Intensity stand out from our other locations. The branded curtains and cameras surrounding the central table area make for only one way in and one way out for minimal interference during play and again adds to the realism that we pushed for when designing Intensity.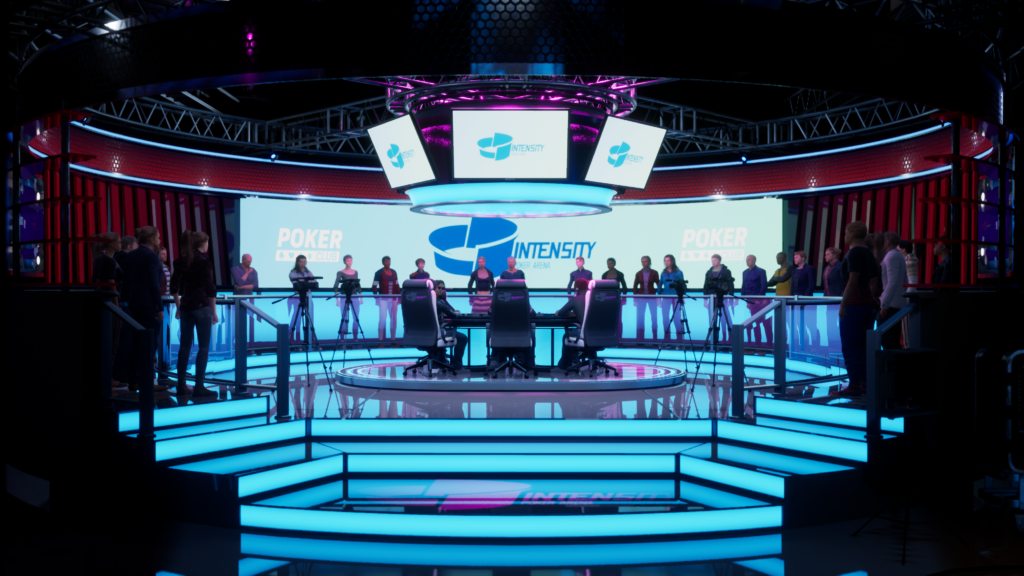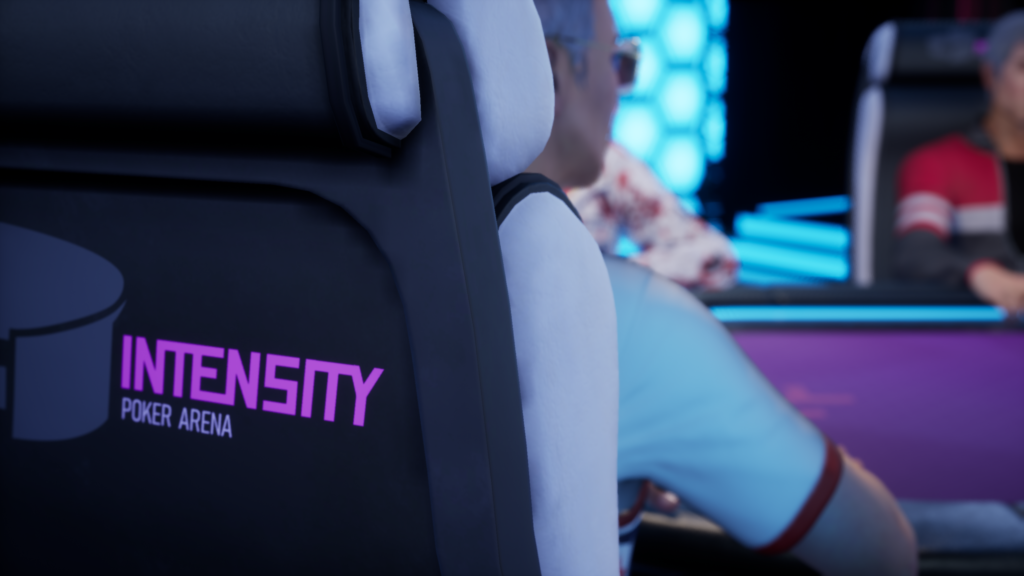 ---
We've got 4 more locations to introduce you to and lots more Poker Club details to share. Ace Boxing Gym is next up in our Access All Areas feature, but please get in touch and let us know what you'd like us to showcase next over on Discord.
Poker Club launches November 19th on PC, PS5, Xbox Series X and current-gen platforms. You can add the game to your Steam Wishlist by visiting the Steam store page and pre-orders are available right now for Xbox One and Xbox Series X/S for £19.99 / $24.99.