This week's round-up includes
– Poker Club release details
– A sneak preview of first-person gameplay
– Next-gen giveaway details
Keep reading to stay up to date with the latest Poker Club news…
---
Poker Club Launches November 19th
It's been quite the week for the team here at Ripstone as we confirmed that Poker Club will release on 19th November on PC, PS5, PS4, Xbox Series X/S and Xbox One! The response has been amazing and we can't wait for you to join us at the table in less than one month's time. If you're a PC player and looking forward to launch, please consider adding us to your Steam Wishlist as it really helps and keeps you in the loop for future updates and announcements.
It really is a dream come true for us to be releasing Day 1 on PlayStation 5 in Europe and during the launch window on Xbox Series X/S. We're incredibly proud of what our small team has achieved to make this happen and November 19th can't come soon enough.
First-Person Gameplay Preview
We're currently putting together an in-depth gameplay introduction to Poker Club with commentary from our Game Director Phil Gaskell, but in the meantime, we wanted to share a sneak preview of how it looks to play in first-person. Sometimes you've just got to fold and roll with the chip tricks instead!
Next-Gen Giveaway
To celebrate the release of Poker Club next month, we're hosting a next-gen giveaway! You've got the chance to win multiple copies of Poker Club to share with your friends AND the choice of a PlayStation 5 or Xbox Series X console. The full details are available in our announcement post and you can enter up to three times; once per platform on Facebook, Twitter and Instagram. Entries close 18th November at 23.59 GMT.
If you haven't entered yet, why not?! And if you have already entered, good luck!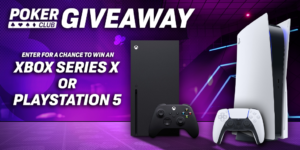 We've got even more news and exclusive insights to share next week, but for now, you can stay in touch with us over on Twitter, Facebook or Instagram, and in our official Discord server. Thank you to everyone for the support so far, we can't wait to share Poker Club with you.